Our goal at GetAssist is to bring the community together, with small to medium businesses. If you need any type of assistance, you will be able to make a request, to find a service provider.
Go to www.getassist.com.
Log in to your GetAssist account. If you are having issues logging in please click HERE.
Click on the orange "Make a GetAssist Request" button.

Enter in information such as what you need assistance with (Edit) … This will then be sent to an appropriate service provider, who will then reply to this request.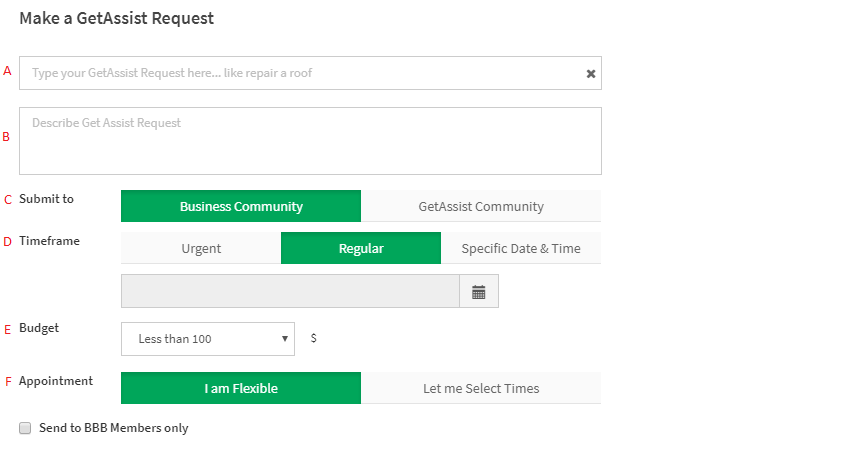 A.

Subject -


This is the Subject of your GetAssist Request. This uses Keywords to find you a request category that we have available. If you start typing a keyword, you will see a drop down menu of the applicable request categories.


B.

Description -
This is where you will enter in further information about the request you are making. Please provide information on the request that you need completed, as this helps our service providers understand what type of services you may need.


C.

Submit To -


You are able to either Submit to a Business Community, or a GetAssist Community. If you are looking to find a service provider we suggest submitting it to the Business Community, as this will then be received by our service providers.


D.

Time Frame -


This is where you can submit a time frame you wish to have the job completed by.


E.

Budget -


This is where you can enter if you have a budget for this request. However if you choose to not enter in a budget it will be automatically sent with the budget Less than 100$


F.

Appointment -


If you use the "I am Flexible" this meaning there will be no appointments. If you choose "Let me Select Times" this means you will be able to set up appointment times. However if you set up 3 Appointments, only 3 service providers will be able to reply to this request.

Once you receive a reply, you will be able to view information on this service provider by clicking on their Icon. You will then receive the information about their business. Once you have chosen a service provider that fits your needs, you can then choose them for the job. This will then just be business as usual in regards to finding a time that works best for both parties.
If you are having any issues with submitting a GetAssist Request, you can contact out Support Team by clicking on the HELP widget in your GetAssist account. You can also email help@getassist.com