Creating a community is one of the best ways to keep in contact with family and friends, co-workers and customers. There are two different communities that can be created. Public and Private.
What is a public community?
A public community is where anyone can search for it and join, this is best if you want to make a local community such as Mackenzie Towne.
What is a private community?
A private community is where only people you invite can join, no one can search for it. This is best for creating private family communities, and HR community for staff.
To make a community you first must log into your account. Once you are in your account look to the lower-left panel under the calendar and click on community network.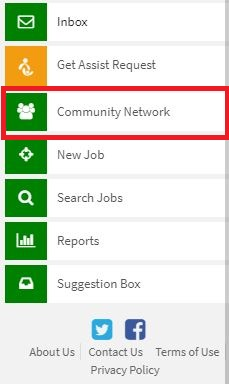 How To join a community: You can click on local and you should see communities in your local area.
Local: Means any communities that are in your local area you will be able to join, this is linked to your postal code
Friends: Means that you will be able to see and join and communities that your friends are part of.
Suggested: Our System would have a suggested list of communities that you can join, this would be based on the current communities you are part of. For Social members, this would also be from any hobbies you added in your profile.
All: Means you will be able to see every single public community that has been created in GetAssist.
To join a community: click on the join button located beside the community name. If you are already part of a community, you will see the Join replaced with Member.
Once you join a community you will then be able to see all post and notices on your grapevine. This means that everything posted from members and the RSS feed will be displayed on your grapevine.

To create your own community, click on the Create New Orange button. You will be taken to the following page.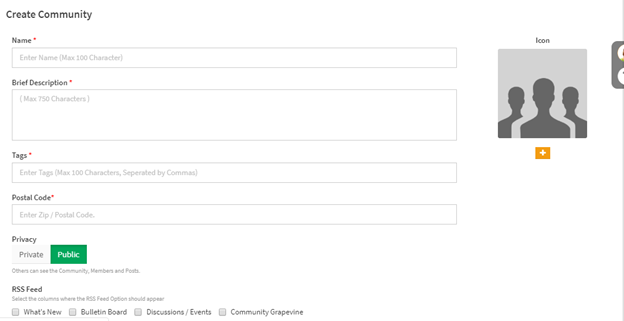 Step by Step process to make a community,
Create a name for your community, the system will tell you if that name already exists
Add a brief description about what your Community is about
Add tags to make finding your community easier
Add a postal code – So people in your local community can join if public.
You can either make your community private or Public,

Public, anyone can join your community
Private, only you can invite people to your community via email.

RSS Feed is only available for public communities.
Next, you can add an icon for your Community, click on the orange + button and upload a photo from your computer.
Last step is to click Create & Invite. You can invite people through emails. They will be sent a link to join your community. If they are not part of GetAssist they will be prompted to join GetAssist.
Once you are done inviting people, click done and your community has been created.
Some related FAQ articles you may be interested in are:
How to manage a community you created
How to stop getting notifications from a community.
Still having trouble? No problem! Just submit a Support Ticket or email our Support Staff at help@getassist.com to receive some personal assistance!